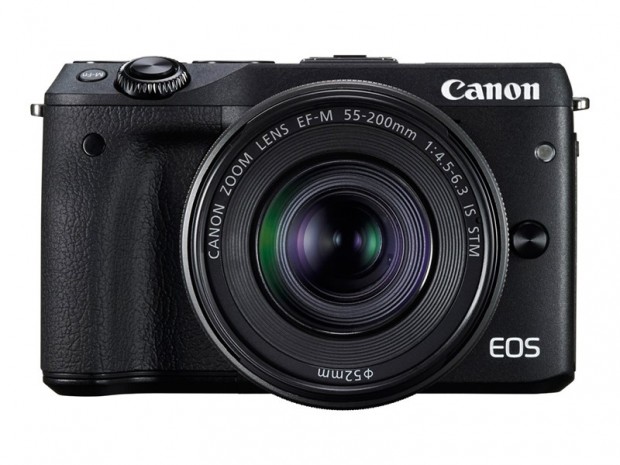 Canon telah mengumumkan EOS M3 yang baru saja dirumorkan, di wilayang Eropa dan Asia. Sementara tidak tersedia untuk wilayah Amerika Utara. Kamera ini memiliki fitur yang lebih baik dari pendahulunya dengan sensor APS-C  24.2MP CMOS, memiliki kontrol dial pada bagian depan, sistem AF Hybrid CMOS III. LCD 3.2″ yang tertanam dapat diartikulasikan 180 derajat untuk melakukan foto selfie.
Body secara umum berbeda dengan EOS M2 dengan peningkatan ergonomi pada bagian pegangan (hand-grip) sehingga lebih nyaman untuk digunakan. Sementara prosessor juga baru yaitu DIGIC 6. Memiliki dia khusus untuk kompensasi eksposur di bagian atas. Kamera ini sudah tertanam koneksi modul wireless Wi-Fi dengan NFC. Fitur lainnya mencakup perekaman video Full HD 1080 / 30p, hotshoe untuk aksesori opsional EVF dan built-in pop-up flash.
Canon EOS M3 dijadwalkan untuk pengapalan bulan April 2015, dilepas dengan harga sekitar USD $900. Berikut spesifikasi, preview, gambar dan press release-nya.
Spesifikasi Kamera Canon EOS M3
Sensor APS-C 24.2MP CMOS
Hybrid CMOS AF 49 points.
ISO100-12800
Media SD / SDHC / SDXC (UHS-I compatible)
Processor DIGIC6
Wi-Fi dengan NFC
Continuous shoot 4.2 fps
384 zone metering
Shutter speed 1/4000sec – 30 sec
Full HD Video
Built-in Flash
LCD monitor 3″ 1.04 million dot touchscree, dapat diputar 180 derajat
Opsional eksternal EVF
Bodi kombinasi stainless steel, magnesium alloy dan polycarbonate
Ukuran 110.9 x 68.0 x 44.4 mm
Berat 366g
Preview, Hands On dan First Impression
Gambar Canon EOS M3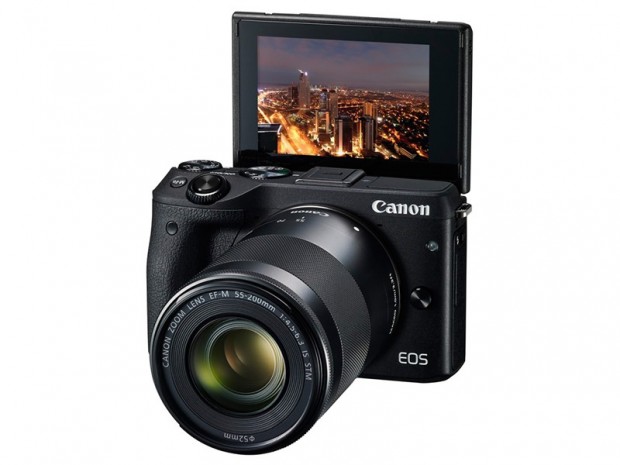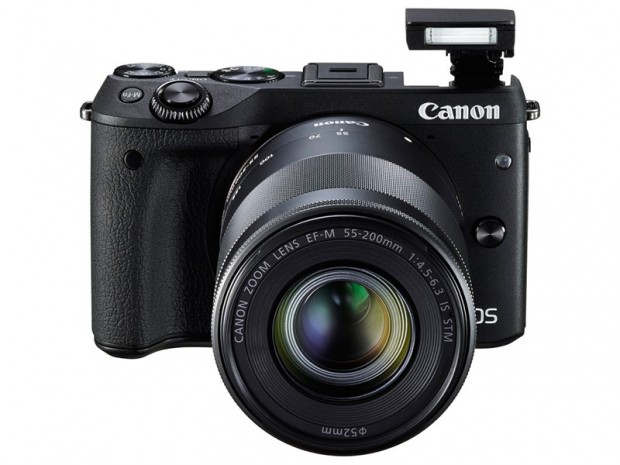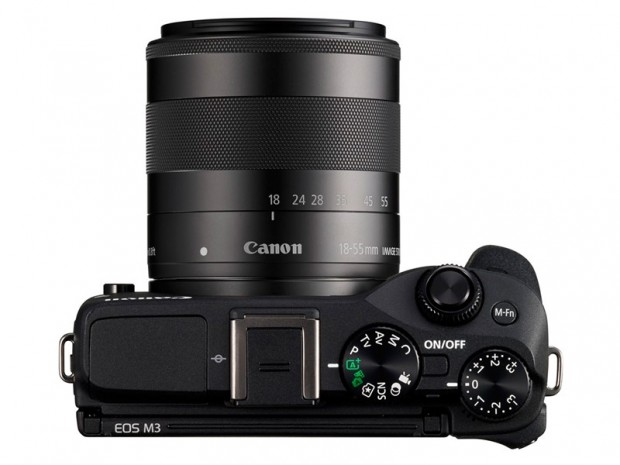 Press Release Canon EOS M3
The power of EOS, only smaller – the EOS M3

United Kingdom, Republic of Ireland, 6 February 2015 – Canon today reveals the EOS M3 – a powerful Compact System Camera created for enthusiast photographers who demand premium performance. Fusing Canon's unrivaled image quality and DSLR-levels of control in a compact body, the EOS M3 offers the ability to capture the world around you in exceptional detail. At the heart of the EOS M3 is Canon's first 24.2 megapixel APS-C CMOS sensor and its most advanced image processor, DIGIC 6, delivering premium quality stills and Full HD Movies. Combined with super-fast AF performance, thanks to a new Hybrid CMOS AF III and 49-point AF System, this camera gives you the freedom to capture the beauty of movement. As an advanced photographer you'll find everything you need at your fingertips, with intuitive DSLR-like dials and control, as well as the flexibility to change your lens, all shrunk down into a compact, ergonomic body to take with you wherever you go.

Beauty and power in the palm of your hand
From city skylines and enchanting landscapes, to urban art and eye-catching portraits, the EOS M3 delivers clarity, rich colour and distinctive detail, with every image, using the 24.2 MP sensor. As light starts to fade and dusk descends, the EOS M3 excels, with the sensor's vast 100-12,800 ISO range providing vivid, realistic and low-noise shots in even the most challenging of light situations.

Constructed for speed, whether you're shooting an elusive animal on safari, or street performers on a city break, the subject of your shot will be in focus, with the EOS M3's 49-point AF system and innovative new Hybrid CMOS AF III technology delivering lightning fast performance; focusing up to 6.1x faster than the original EOS M.

Putting you in control – iconic EOS design and controls
The EOS M3 incorporates the quintessential EOS design DNA and is instantly comfortable in the palm of your hand thanks to the fluid design grip. Direct access to a range of controls, including an exposure compensation dial, main control dial and customisable buttons, let you adjust the camera's settings to suit your shooting style.

For complete framing versatility, the large 7.5cm (3.0") LCD touchscreen tilts up 180 degrees and down 45 degrees, to help you shoot from all angles, while also making multi-touch gestures a finger tap away. The screen also gives you access to Canon's intuitive touch menu system found on EOS DSLRs.

The EOS M3 is a camera to make your own, with customisable controls, a hot shoe for Canon's Speedlite flashes and optional tilt-type electronic viewfinder. Compatibility with EF-M lenses, including a choice of pancake and zoom lenses, means you can shoot any situation. Plus, with Creative Assist, the EOS M3 can be controlled from the touch screen interface, and the effects previewed in real time as you shoot. Settings such as brightness, background blur, vividness of colour, contrast, warmth and filter effects can be altered, and combinations can be saved to be called upon again when you need them, helping you shoot like a pro every time.

Movies worth remembering
Budding movie makers can shoot precious moments in Full HD quality, with a choice of 24p, 25p and 30p frame rates, and MP4, for easy sharing. You can be sure that your favourite people and places will always be in focus, with advanced Hybrid CMOS AF III providing continuous AF. For more experienced shooters, Touch AF gives you the flexibility to select AF points on the LCD even with moving subjects, and create professional-looking pull focus effects. For full control, Manual Movie puts you in the director's seat, with complete aperture, shutter and ISO control, for stunningly creative results.

Power to control and share
With the power to capture beautiful stills, comes the flexibility to remotely control the camera and transfer images, using integrated Wi-Fi and NFC connectivity. Ideal for shooting in unusual situations and positions for unique perspectives, remote shooting via the new Camera Connect app lets you control the camera's key functions. Dynamic NFC enables single touch image transfers to smart devices while the auto-sync functionality means you can upload all your images to Canon's cloud storage service, irista, for instant back-up and peace of mind.

EOS M3 key benefits:

Performance and creativity, in an EOS you can take everywhere
Be spontaneous. Enjoy fast, responsive focusing
Take control of your photography and watch your creativity grow
Be as imaginative with movies as you are with photos
Remote camera control and image sharing via Wi-Fi
Pricing and availability

The EOS M3 will be available from April 2015 with a RSP of £599.99 / €769.99.